It is Tuesday, and time for Follow Me Back Tuesday. If you follow me I will follow you back. Be sure that you leave a message that you followed. Follow Me Back Tuesday is hosted by Survey Junkie,Little Yaya's, Review Retreat , Boobies,BabiesAndABlog & this weeks Guest Host
Dolly from Xmas Dolly ...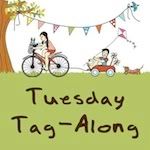 Tuesday Tag-Along blog hop, hosted by
Twee Poppets Review and Giveaway
! This is a great way to discover new blogs.